Anatomy and ideal proportion:
The nose is a major element in the harmony of the face.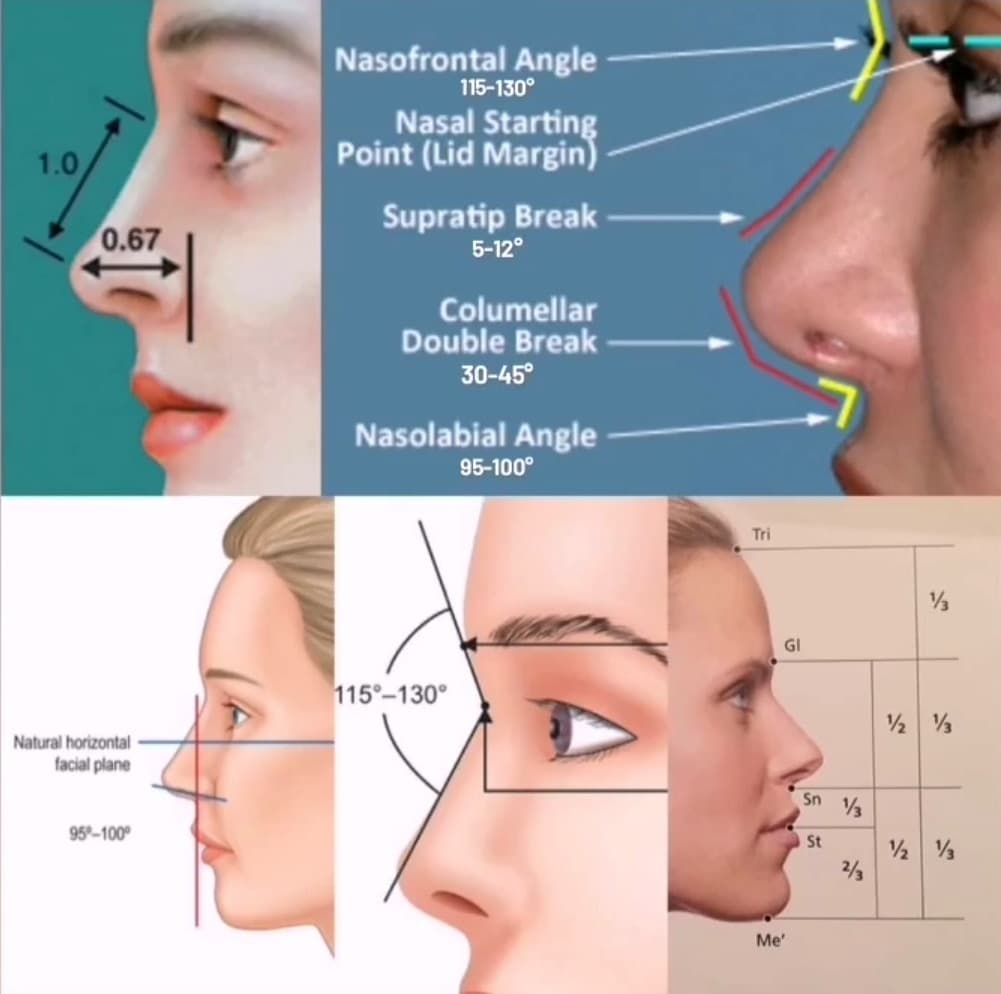 The ideal nose is defined by a multitude of artistic anatomical criteria: a projection/length ratio equal to 0.67, a naso-frontal angle (between the nose and the forehead) between 115 and 130° (close to 115° for men and closer to 130° for women: in fact, a nose with a more closed naso-frontal angle is a criterion of masculinity), a slight depression above the tip "supratip break" of between 5 and 12° for women, and an angulation below the tip "columellar double break" of between 30 and 45°. Then, a naso-labial angle between 95 and 105° (closer to 95° for men and closer to 105° for women).
Artistically, Sheen's lines, which originate from the eyebrows and descend vertically along the nasal bridge and flare out at the tip, must be harmonized during rhinoplasty.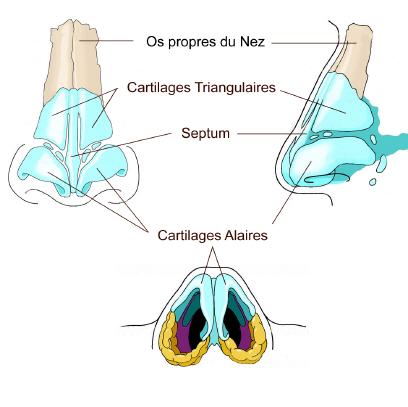 Anatomically, the nose has 3 levels:
Upper: formed by the bones of the nose
Middle: formed by the triangular cartilages
Lower: formed by the alar cartilages, which are 2 rings placed one against the other, whose configuration defines the structure of the nostrils and the tip.
A nasal hump can concern only the upper level "bony hump" or the upper and middle levels "osteo-cartilaginous hump".
Depending on the anatomical structure of your nose and in particular the structure of your cartilages, a rhinoplasty can sometimes be performed with hyaluronic acid, with threads or by surgery. A consultation with Dr. Lucas is necessary to determine which technique will be most appropriate.
Technique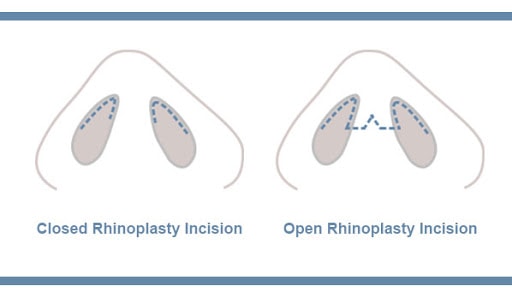 The "open" or "closed" approach:
An open or closed rhinoplasty can be performed depending on the case. Dr. Lucas favors the open approach because it offers better visibility and the scar on the columella is almost invisible at 6 months. However, for a minimal bump or minimal work on the tip, he most often opts for a closed approach.
The different possible procedures during a rhinoplasty :
We can correct a hump on the back of the nose: if the base of the nose is thin, we can correct a hump without necessarily requiring lateral osteotomies. When the base of the nose is wide, lateral osteotomies are often necessary to prevent an "open roof deformity". When lateral osteotomies are performed, a plaster cast is placed and kept on for 7 to 10 days.

Then, the tip can be refined and the nasolabial angle opened by reconfiguring the wing cartilages.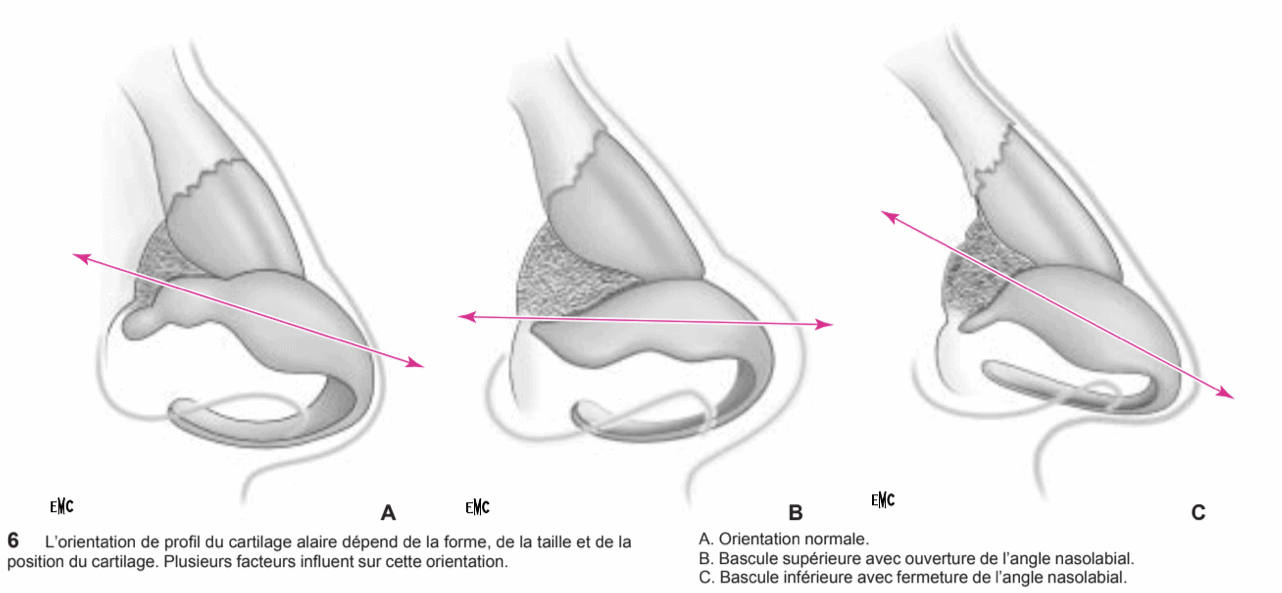 During an aesthetic rhinoplasty, we take the opportunity to correct functional disorders: deviation of the symptomatic septum, anomaly of the turbinates.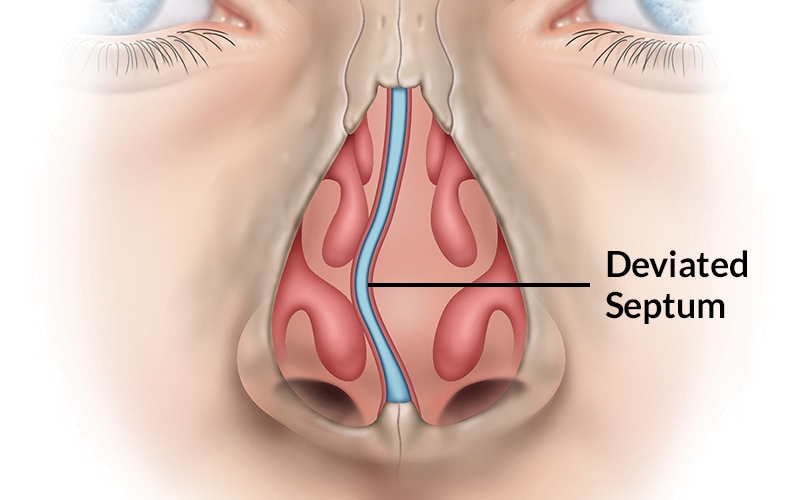 Finally, we can correct a thickening of the nostrils in the same operation.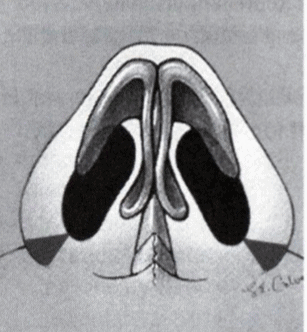 Results :
Time to final results:
2 weeks to see a significant result, 2 to 5 months to see the final result
Longevity of results :
Definitive
Before surgery:
Stop smoking 1 month before the operation (risk of skin necrosis important if active smoking)
Do not take Aspirin 10 days before the operation, inform Dr. Lucas of any anticoagulant medication (Sintrom, Coumadin, Eliquis, etc.) to arrange for its discontinuation or replacement.
Take Arnica capsules 5 times a day for 5 days before surgery to prevent hematoma.
Sometimes a preoperative CT scan is necessary to plan the procedure.
Intervention :
Pain: the pain during the intervention will be almost non-existent, with an adapted anesthesia
Duration of the procedure: 60-150 minutes depending on the complexity
Anesthesia: local with sedation or general depending on complexity
Location: operating room
Outpatient or 1 night hospitalization
After surgery:
Post-operative pain: 1/10 often responding to Dafalgan
Social eviction :
7-10 days with hematoma and swelling
Return to work: 10 days
Return to sport: 3 weeks
Instructions:
Bed rest without major effort (which can cause the opening of small vessels during effort and lead to a hematoma) for 48 hours
Ice for 1 week, as often as possible, to reduce swelling
Arnica capsules 5 times a day for 5 days after surgery to prevent hematoma
Permanent cessation of smoking to prolong the effect of the surgery and minimize complications
Removal of wicks on D2, removal of plaster on D7-J10
Check-up by Dr Lucas on D1, D2, D7, 3 weeks, 3 months, 6 months, 1 year
Sun protection with an index greater than 50 for 6 months following surgery.
Follow-up of the scar by Dr. Lucas for 1 year after the surgery is essential.
Complications
-Bleeding: this may occur in the first few hours but usually remains very moderate. When they are too important, it may justify a return to the operating room.
-Hematomas: they may need to be evacuated if they are large or too painful.
-Infection: despite the natural presence of microbes in t
he nasal cavity, it is very rare. If it does occur, it warrants rapid and appropriate treatment.
Unattractive scars: they can only concern external scars (when they exist) and are only very rarely so unsightly as to require a touch-up.
-Skin damage: although rare, they are always possible, often due to the nasal splint. Simple wounds or erosions heal spontaneously without leaving any trace, unlike skin necrosis, which are fortunately exceptional, and often leave a small area of scarred skin.
-Asymmetry, functional respiratory problems, aesthetic dissatisfaction
Combinations and alternatives
A consultation with a thorough clinical examination is necessary to determine if you can benefit from rhinoplasty with filler or threads or if surgery is more appropriate.