Anatomy and ideal proportion:
The nose is a major element in the harmony of the face.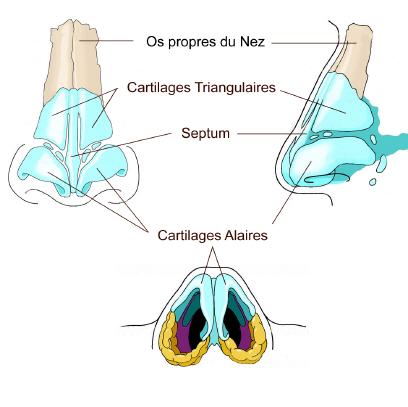 Anatomically, the nose has 3 levels:
Upper: made up of the bones of the nose
Middle: formed by the triangular cartilages
Lower: formed by the alar cartilages, which are 2 rings placed one against the other, whose configuration defines the structure of the nostrils and the tip.
The Asian nose is often characterized by its lack of projection, its lack of definition of the tip and a moderate thickness of the nostrils.
Depending on the anatomical structure of your nose and in particular the structure of your cartilage, a rhinoplasty can be performed with hyaluronic acid and threads or surgery. A consultation with Dr. Lucas is necessary to determine which technique will be most appropriate.
Technique:
Medical rhinoplasty with hyaluronic acid and threads:
Local anesthesia, micro-incision of 0.5 mm at the level of the columella of the nose and filling with hyaluronic acid cannula specific for the nose area. The cannula, with its smooth, non-sharp tip, allows for a less painful injection with less bruising. The back of the nose is injected and then the tip to improve projection and definition. Then, through the same micro-incision, threads are inserted to raise and project the tip.
Surgical rhinoplasty :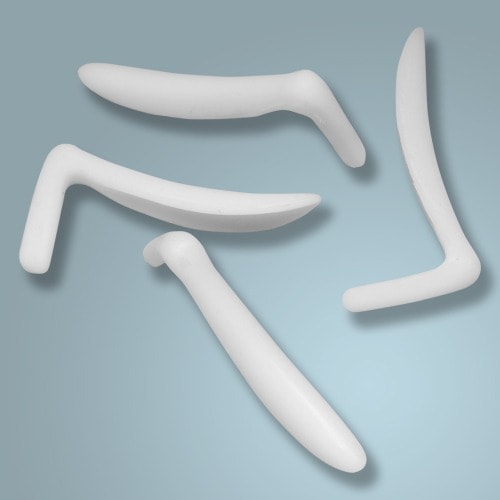 Open incision and insertion of an L-shaped silicone prosthesis to increase the projection of the back of the nose and the tip.
Finally, a thickening of the nostrils "alar flaring" can be corrected in the same operating time.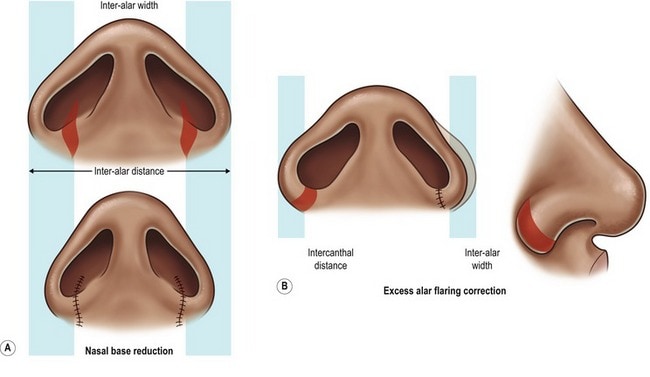 Results :
Final results :
Medical: after a 24-48 hour social eviction, the result can be seen immediately with a hypercorrection of a few mm then to see the final result it is necessary to wait about 1 week.
Surgical: 2 weeks to see a significant result, 2 to 5 months to see the final result
Longevity of results :
Medical: 6-12 months
Surgical: permanent
Before surgery:
Smoking must be stopped 1 month before the operation (risk of skin necrosis is important if you smoke)
Do not take Aspirin 10 days before surgery, inform Dr. Lucas of any anticoagulant medication (Sintrom, Coumadin, Eliquis, etc..) to organize its discontinuation or replacement.
Take Arnica capsules 5 times a day for 5 days before surgery to prevent hematoma.
Contraindications hyaluronic acid: autoimmune diseases, pregnancy, breastfeeding, former silicone injection on the same site
Intervention :
Pain: the pain during the intervention will be almost non-existent, with an adapted anesthesia
Duration of procedure: 60 minutes for medical / 90 minutes for surgical
Anesthesia: local for medical / local with sedation or general for surgical
Location: office for medical / operating room for surgical
After surgery:
Post-operative pain: 1/10 often responding to Dafalgan
Social eviction :
24-48h (swelling) for medical / 7-10 days (hematoma and swelling) for surgical
Return to work: 24-48h for medical / 10 days for surgical
Return to sports: 7 days for medical / 3 weeks for surgical
Instructions:
Bed rest without major effort (which can cause the opening of small vessels during effort and lead to a hematoma) for 48 hours
Ice for a few days, as often as possible, to reduce swelling
Arnica capsules 5 times a day for 5 days after surgery to prevent hematoma
Stop smoking permanently to prolong the effect and minimize complications
Surgery:
Removal of wicks on D2, removal of cast on D7
Check-up by Dr Lucas on D1, D2, D7, 3 weeks, 3 months, 6 months, 1 year
Sun protection with an index higher than 50 during the 6 months following the surgery.
Follow-up of the scar by Dr. Lucas for 1 year after the surgery is essential.
Hyaluronic acid and tensor threads:
Avoid anti-inflammatory drugs for 48 h
Preventive antibiotic Augmentin 1 g twice a day for 3 days after surgery
Disinfection with spray 2 times a day for 3 days entry point.
Control Dr Lucas D7, 3 weeks, 3 months
Complications
Medical:
– Intravascular injection: necrosis, blindness
-Secondary displacement of the thread: if the thread is stimulated too strongly during the 7 days following the procedure, it may come off.
Nerve or vessel injury: the placement of tensioning sutures must be performed by a doctor with a good knowledge of anatomy, with whom the risk of nerve injury is almost non-existent.
-Hematoma: there may be bruising, which generally disappears within 4 to 5 days maximum.
-Asymmetry, under- or over-correction
– Infection: often treated with antibiotics and local care. Exceptionally, the sutures must be removed when the infection is not controlled despite the preceding measures.
Surgical:
-Bleeding: it is possible during the first hours but usually remains very moderate. When it is too important, it may justify a new and more thorough cleaning, or even a return to the operating room.
-Hematomas: they may need to be evacuated if they are large or too painful.
-Infection : with externalization of the implant
Unsightly scars: they can only concern the external scars (when they exist) and are only very rarely so unsightly as to require a touch-up.
-Skin lesions: although rare, they are always possible, often because of the nasal splint. Simple wounds or erosions heal spontaneously without leaving any trace, unlike skin necroses, which are fortunately exceptional, and often leave a small area of scarred skin.
-Asymmetry, functional respiratory problems, aesthetic dissatisfaction
Combinations and alternatives
A consultation with a thorough clinical examination is necessary to determine if you can benefit from rhinoplasty with filler and threads or if surgery is more appropriate