Principle of the TCA peel:
It consists of chemically abrading the superficial layers of the skin (epidermis and superficial dermis). Following this, a new superficial dermis and a new epidermis are reconstituted, inducing a creation of collagen (skin regeneration, hydration and restructuring of the skin) and elastin (tensor effect).
The actions of the TCA peel:
Skin rejuvenation
Acne scars (combined with microneedling) and dilated pores
Dark spots that appear during pregnancy
Results :
Final results : After a social eviction of 6 to 9 days (redness, small brown scabs), we can begin to see a tightening effect at 2-3 weeks, but to see a significant effect we must wait 6-8 weeks.
Longevity of results: 1 to 2 years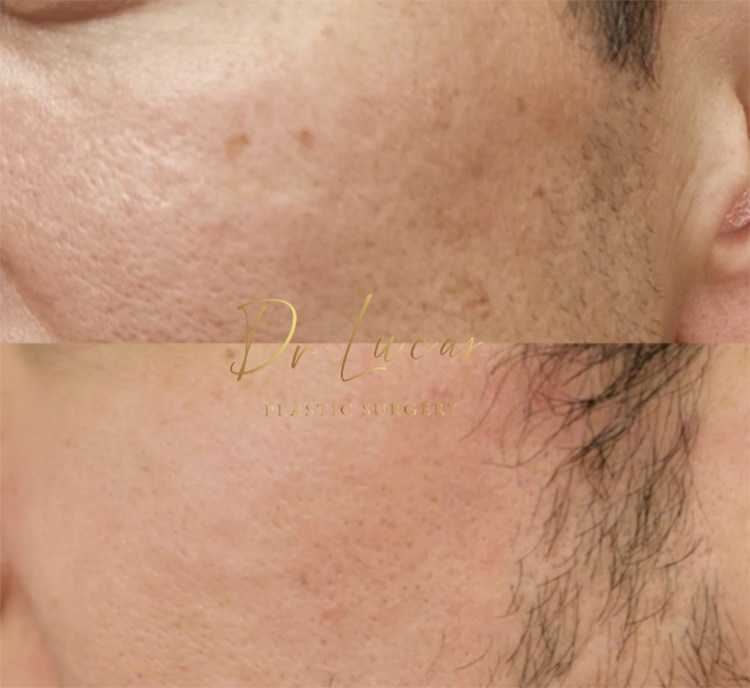 Before the procedure:
Stop smoking at least 4 weeks before the procedure (smoking decreases the micro-vascularization of the tissues and compromises the healing process as well as the creation of collagen)
Inform Dr. Lucas of any anticoagulant medication (Aspirin, Sintrom, Coumadin, Eliquis, etc.) in order to arrange for its discontinuation or replacement.
Anti-herpetic treatment started 1 day before the session and continued 4 days after (if there is a history of herpes labialis, even old)
Avoid intense exposure to the sun or laser sessions the month before the peel
Preparation 1 month before the peel with a combination of cream composed of vitamin C and fruit acid, thus preparing the skin for the peel.
The ideal time for a peel is from September to April, when the sun is less intense.
Contraindications (strict and relative):
Pregnancy, breastfeeding, history of hypertrophic or keloid scars, anticoagulant treatment, recent intense sun exposure (< 1 month), recent Roaccutane treatment (< 1 year), photosensitizing drug treatment
Procedure :
Pain: pain during the procedure will be almost non-existent, with an adapted anesthesia
Duration of the procedure: 45 minutes
Anesthesia: cream
Location: office
Outpatient (without hospitalization)
After the procedure:
Post-operative pain: no pain, sometimes discomfort including itching that can be treated with Cetallerg and relieved with water spray
Social eviction: redness (like intense sunburn) for 1-3 days, then scabs between 3 and 5 days, then once the scabs have fallen off (between 2 and 4 days), the skin remains pink for a few days
Return to work: 1 week
Return to sports: 10 days
Instructions :
Ideally, stop smoking permanently for a better result.
The hours following the session you will have a sensation of intense heat, a white film will form and will fade the next morning. By the time you take your first shower the morning after the peel, you can spray with water for comfort. Apply Vaseline cream 3 to 5 times a day until epithelialization (7-10 days).
The appearance of the skin will then be comparable to a sunburn (red/brownish skin) and after 3-5 days, the skin will turn slightly brown with scabs that should absolutely not be scratched or rubbed. It is important to spray with thermal water several times a day to limit the feeling of tightness and moisturize several times a day with Vaseline.
After 7-10 days, it is generally possible to wear makeup.
Total sun avoidance until epithelialization and the application of a sunblock cream (index more than 50) for 8 weeks post-peeling are imperative.
Dr Lucas check-up 2 days, 1 week, 2 weeks, 6 months.
Complications of TCA peeling :
Hyperpigmentation, hypopigmentation, hypertrophic scar, prolonged erythema, bacterial or viral infection